Arrived.
Hello blog readers.
This will be my
"day 1"
blog entry of my journey in South Africa.
I have arrived to Johannesburg safely, and already love it here.
I was so worried/nervous about it….. and where we are staying couldn't be nicer.
The people are so happy we are here.
I heard someone say today he wished it was almost not as nice, because he never wants to leave.
Our hotel is beautiful. Literally just built. Very modern. Very cutesy.
My trip today was eventful, as usual.
Arrived at LAX at 8:30am for a 10:30am flight to Atlanta.
Was supposed to arrive in Atlanta at 5:30pm, board at 6:30pm, and leave at 7:25pm
for a 17 hour flight to Johannesburg.
Well, why would it go that smoothly? It is
me
we are talking about.
So after our flight being 1 hour delayed…… I arrived in Atlanta at 6:40pm.
called Delta to see where the gate was (go figure on the opposite side of ATL airport)
Just my luck.
I asked Delta if I was going to make it, and the nice lady told me
"you better run"
Oh. Cool.
No way I am missing my flight.
So, I ran...and ran....and ran.


I spotted a man driving a cart, asked him very politely
(and very desperately)
"sir, if I pay you can you drive me to the opposite end of the airport so I don't miss my flight"
I think he saw my desperation in my eyes.
Sure enough it worked.
And I made it while passports were being checked AND had time to buy a funny neck pillow.
Phew.
6 movies, 5 hours of sleep, dinner, free glasses of wine, a party on the back of the plane, and a few very good chats with everyone seated next to me.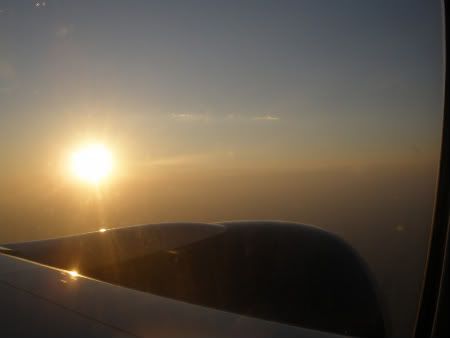 (arriving into Jo-berg, beautiful sunset)
I made it!!!!

(Side note – everyone on the plane was there for the World Cup. Everyone had a jersey, t-shirt, hat or some type of gear for their country. It was amazing. The atmosphere is unreal.)
When we arrived to Jo-berg everything and everyone was in World Cup spirit.
Welcome dancers, fog horns, chants, team pride…. You name it they are doing it.
This place is awesome.
not to mention how cool our "welcome packet" with goodies, gear, events, credentials, etc.
The hotel is set up perfectly for us. We have a lounge with free drinks, food, games, televisions, flat screens, projectors, tables, couches, etc.
(my cute room for the next month)
I think I am going to love this month……..
Until tomorrow.