heartbreaker.
my heart hurts for the
US Men's soccer team
today.
what a ride they had...
game #4
didn't have as good as an outcome as we hoped.
2-1 in overtime is not a fun way to lose.
actually, losing at all isn't fun.
i am still so bummed out.
however, i am SO proud of the team.
so so so proud!!
definitely made a name for themselves this World Cup.
what a bunch of
wonderful memories
i have made in South Africa.
and fantastic new friends.
this was such an amazing trip.....
i am definitely
sad
to go home.
a few pics of today.
(Dani and Me w/ our face tattoos)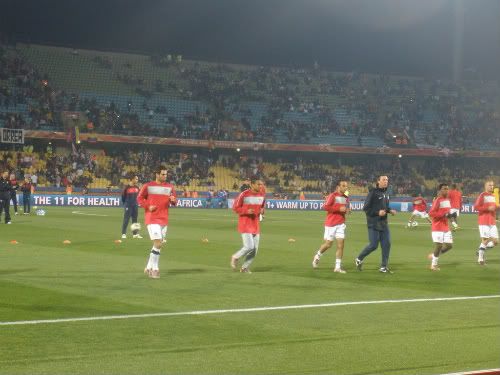 (pre game on the field with Visa, watching warm ups)
i can't not be happy at how far we have come.
or how proud the team has made us.
go USA!
Brazil 2014 is just around the corner.....