father's day.
spoiler alert: no "South Africa" post here.
just me, talking about my amazing father on father's day.
today is bittersweet for me.
on one hand i am having the time of my life, and such an amazing life experience.
on the other hand i am too many miles away from my family to celebrate father's day with them in honor of such an amazing father.
it's hard because i am SO very thankful for the life i live,
the time i spent with him,
and the love i have for my family.
but then there's this part of me that is still broken.
i don't think that part of my heart will ever heal.
i lost my very best friend.
and i will never have my father back.
i still can't believe it.
only 10 1/2 months ago this earth changed.
we
all
lost someone great.
people tell me i remind them of him.
i smile because that is the best compliment you can give me.
i cherish those words.
with every passing day, i miss him that much more.
i know some days will be tough and some days will be great.
i cry at night because i didn't get to say i love you to his face today.
i didn't get to hug him today.
i didn't get to hear his laugh today.
i cry because i miss him dearly.
i know he's in heaven bragging about his family on earth.
i know he's telling his friends about his "hot wife"
(his words he would use)
and how at 5'3 she's still the cutest person he's ever seen.
or how his son is somehow still surprising us daily about how remarkable he is.
i pray when i have kids they are like my brother.
perfect in every way.
i know he's proud of me.
and the woman i am becoming.
just like my momma i hope.
i just need him some days.
i just need my dad.
he was so great to us.
so great to everyone that came in contact with him.
this entry wasn't supposed to be emotional, but ya know...
it's my blog.
i can write what i want :)
it's hard not to miss a man that meant so much to us.
happy father's day dad.
continue to make us proud in heaven.
and we will do our best down here.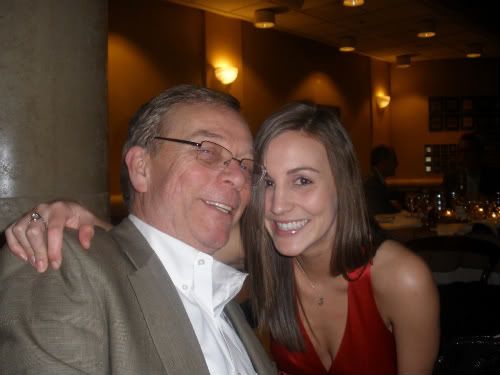 (me and dad 2009)
i think about him all the time, and missing him more than ever.