Rosebank Market/Brazil Game.
What a day!!
First off,
Happy Father's Day
to ALL the Father's out there.
Especially mine
who's partying away in heaven right now.
Secondly, I am exhausted.
Today was amazing.
We went
BIG
today.
Woke up and went to the
Rosebank Market
.
SO cool!!!
It's a 3 story retail mecca of all things amazing.
you can bargain your way into cheaper deals... and come away with steals!
i tried... turns out i am
not
so good.
but it was the
TRYING
that counted.
right?
It's considered South Africa's best flea market.
We sure did find some great items!!!
Also, great live entertainment.
There was a group there that sounded like Boyz II Men.
I swear.
So good!!!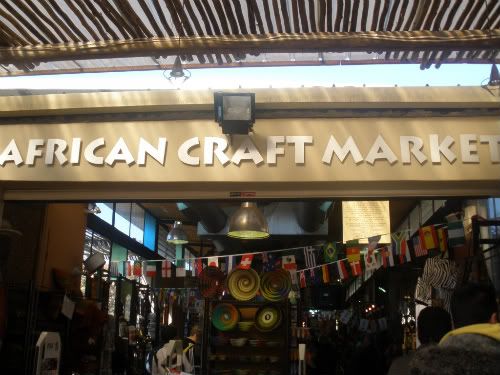 (inside the Market)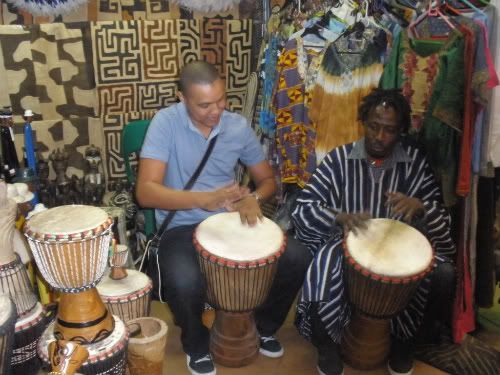 (vendor playing the drums)
After the Rosebank Market we went to the gym and I ran off some fries (or a lot of fries...)
then came back and got ready for the
BRAZIL vs. IVORY COAST
game.
We had
box suites
(yes, i can brag a little....)
with free food/drinks/take home goodie bags/great view....
etc. etc. etc.
needless to say we were VIP.
i guess that is how famous people get treated...
i liked it!
at least for a night ;)
(the suite!)
the entire time we were like
"is this for real?"
it was SO unbelievable.


(85,000 people in the stadium)

85,000 people and we had the best seats in the house.

Aside from cheering on the US (our favorite team!!)
this night was the best!!!
The seats alone were amazing and not to mention the amenities they offered.
pretty cool if you ask me.
Brazil won 3-1 and it was definitely a fun game to watch!!!
After the game I rushed home for my skype "father's day" date w/ my mom & brother.

how cute are they?
seriously??
gosh i just love them.
It was a busy BUT fun day!!!
Off to bed......
Night everyone!!!