game day.
Day 3.
game day.
we got in at 2:30am so I am posting yesterday's events today.
and wow, what an incredible day it was.
to say i had goosebumps the entire day would be an understatement.
i literally was beaming with anticipation.
let's start off with the beginning of my day.
got up early (go figure) and went to the gym.
this place seriously is indescribable.
(the most amazing gym I have ever been to - sorry for poor quality photo)
then back to shower & get ready for the best day ever.
the charter buses were leaving at noon from the family/friends hotel
all
7
buses.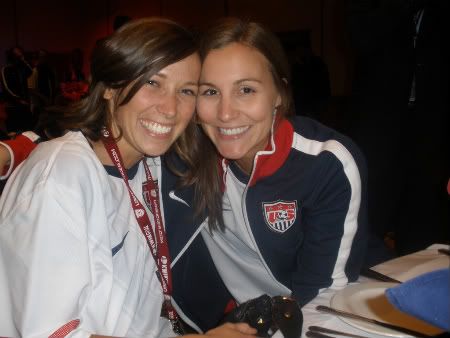 (me and Danielle trying not to be TOO excited for the game, didn't work)
we had to drive about 3 hours to get to the Sun Terrace restaurant in Sun City.
WOW, it was a HUGE banquet room, with round tables, and delicious food/dessert for all of us.
all 150 + family & friends of the US team.
it was amazing
(tables inside the banquet room)
we also watched a little of today's game with Argentina (and Messi) on the big screen then departed for the stadium.
everyone was
DECKED
out in USA gear on the buses.
it was definitely a site to see.
we got police escorts from the hotel, to Sun City, to the game, and back.
we felt like,
is this for real?
when we arrived i literally had tears in my eyes.
the people, the fans, the stadium.
it was one of the out of body experiences, like, am i really here?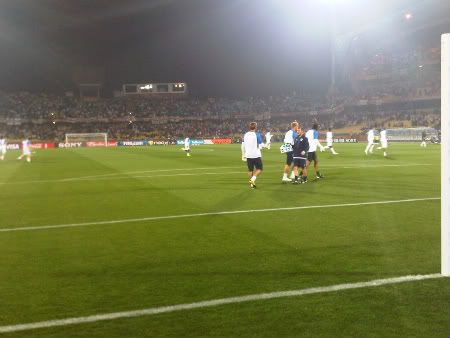 (England and USA warm ups)
really tried to take in
THAT
moment.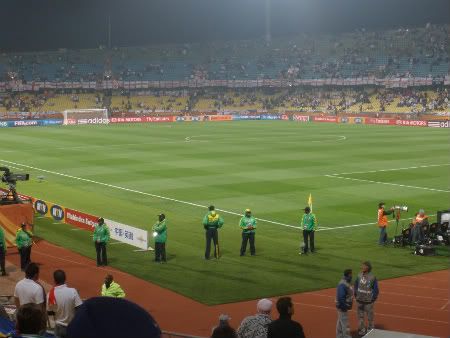 (stadium field)
the atmosphere was unbelievable.
just breathtaking.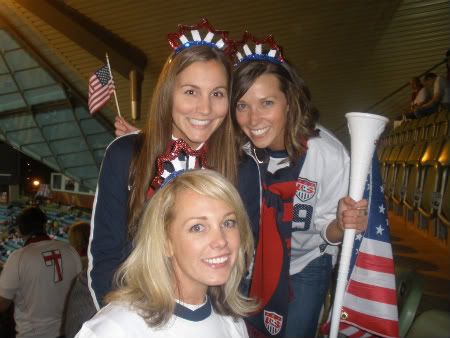 (Me, Dani, Kristy at the stadium)
game time started at 8:30pm.
we were dying of excitement.
imagine all the players families, friends, wives, girlfriends...
all sitting in
ONE
section.
the chants of
USA
happened the entire game.
i was glued to my seat.
watched every pass by every player....
then England scored.
a few minutes in.
buzz kill.
however, we all knew we would score, somehow.
unfortunately, it was SUCH a mistake by the goalkeeper...
BUT we scored!!!!!!!!!!
we went CRAZY!!!!!!!!!!!!!
jumping up & down for a good 5 minutes!!
final score: England 1, USA 1.
we will take it.
one of the most unbelievable nights of my life.
hands down, tops any soccer game i have ever been to.