shopping/Mandela center.
wow, 6 days already? crazy.

we slept in today until 9:45am - can you believe it?
because i can't.
went to grab breakfast
(this place has GOOD food)
then got ready for a shopping excursion for those who wanted to go.
i got a
strawberry milkshake
that was to die for! (see below)
Sorry for the extremely large photo - it wouldn't re-size for some reason.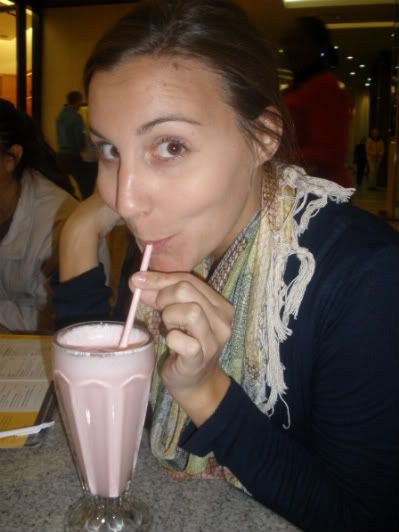 shopped in the craziest mall - which seemed like it was 9 stories and miles long.
needless to say we made it through a small portion of the mall.
i bought an extremely cute jacket for cheap US dollars!
when trying it on i asked the guy who was working,
"if i were walking down the street and you saw me, would you stop me to tell me my jacket was cute?"
he said yes.
so, i couldn't say no to it!
for obviously reasons. ha!
apparently South Africans think i am funny (U.S. friends... it was only a matter of time:))
and i bought a few other things for people that have asked me to grab stuff.
(Jill, if your reading this... the CUTEST WORLD CUP SHIRTS are coming your way soon!!!!)
i need to find an elephant for my brother.
and something amazing for my mom.
and yes, my brother wants an elephant. cool dre. cool. SO easy to find!
ha, jk..........
i will get you something great as well.
after shopping we came back to our hotel and i answered some emails, and checked in with everyone.
headed to the gym, then when i got back to the hotel i decided last minute to go to the
Brazil vs. Korea game.
The atmosphere was crazy!! A few times a got a little nervous for my life (family, not really!!) but we did happen to have AMAZING seats. 10 rows up maybe? crazy.
Our seats are below, amazing right?
although it was the coldest i have
EVER
been in my life.
it was well worth it!
Got back at midnight and called it a night!!